back to news
11 May 2016
Stage 5, from Praia a Mare to Benevento
Stage 5 of the Giro d'Italia, Praia a Mare to Benevento (233km). The stage is long and hilly but with a fast finale.
The group, 195 riders strong, passed km 0 at 11.30.
If Tom Dumoulin keeps the Maglia Rosa today, he will join his compatriot Peter Weening on 4 days as Giro d'Italia race leader: 4. Of Dutch riders, only Erik Breukink has more days in the Maglia Rosa, with 8. Weening one stage 5 on 11 May 2011 (Piombino-Orvieto), which took in some of the dirt tracks used in Strade Bianche.
WEATHER
Praia a Mare: Scattered clouds, 24°C. Wind: weak – 6 kmh.
Benevento (approx. 17.15 – Finish): Light cloud, 25°C. Wind: moderate – 20 kmh.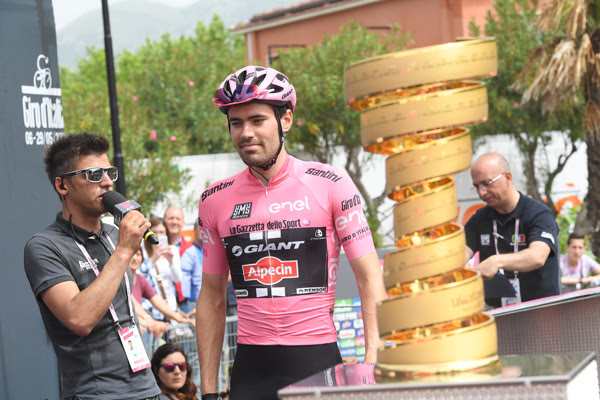 JERSEYS
Maglia Rosa (pink), General Classification, sponsored by Enel – Tom Dumoulin (Team Giant – Alpecin)
Maglia Rossa (red), Sprint Classification, sponsored by Algida – Marcel Kittel (Etixx – Quick-Step)
Maglia Azzurra (blue), Mountains Classification, sponsored by Banca Mediolanum – Damiano Cunego (Nippo – Vini Fantini)
Maglia Bianca (white), Young Rider Classification, sponsored by Eurospin – Bob Jungels (Etixx – Quick-Step)


Stage 5 – PRAIA A MARE – BENEVENTO – 233 km
Finish: Approx. 17.15
Route
This very long stage (233km) winds its way mostly on fast-flow roads. The first part runs entirely uphill (with milder or harsher gradients), with constant undulations further on, up to 30km remaining to the finish. The final part leading into Benevento runs slightly downhill, until it reaches the city for the last section.
Final kms
The final kilometres run entirely within the city. The first part rolls on wide and straight avenues, climbing at first, and then descending. The second part runs on more narrow and curvy inner streets, with a sharp turn 1,200m before the finish. The home stretch is 200m long and slightly uphill, on a 7m wide porphyry-paved road.