back to news
20 May 2016
Stage 13 from Palmanova to Cividale del Friuli: FOLLOW THE LIVE
Stage 13 of the Giro d'Italia, 170km from Palmanova to Cividale del Friuli. This is the first Alpine stage of the Giro, with challenging climbs which are new to the Corsa Rosa. They seem destined to reshape the General Classification.
The group, 177 riders strong, passed km 0 at 12.31. Did not start: dossards nr 29, 114, 118 and 143
WEATHER
Palmanova: Sunny, 21°C. Wind: weak – 6kmh.
Cividale del Friuli (approx. 17.10 – Finish): few cloud, 23°C. Wind: weak – 5kmh.
JERSEYS
Maglia Rosa (pink), General Classification, sponsored by Enel – Bob Jungels (Etixx – Quick-Step)
Maglia Rossa (red), Sprint Classification, sponsored by Algida – Giacomo Nizzolo (Trek – Segafredo)
Maglia Azzurra (blue), Mountains Classification, sponsored by Banca Mediolanum – Damiano Cunego (Nippo – Vini Fantini)
Maglia Bianca (white), Young Rider Classification, sponsored by Eurospin – Bob Jungels (Etixx – Quick-Step) – Jersey will be worn by 2nd in classification, Davide Formolo (Cannondale Pro Cycling Team)
POINTS AND TIME BONUSES
During the stage, 100 King of the Mountains points are up for grabs, as well as time bonuses of 13 seconds. A maximum possible 31 points are available for the points classification.
GENERAL CLASSIFICATION
1 – Bob Jungels (Etixx – Quick-Step)
2 – Andrey Amador (Movistar Team) at 24″
3 – Alejandro Valverde (Movistar Team) at 1'07"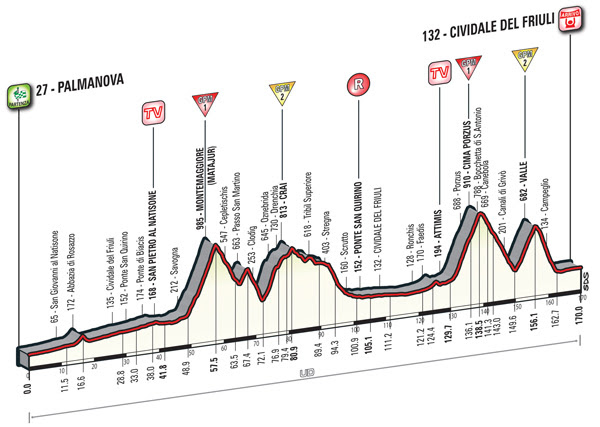 Stage 13 – Palmanova – Cividale del Friuli – 170km
Finish: Approx. 17.15
Route
This is a very challenging mountain stage. The route takes in four categorised climbs in a row, with just a few stretches to let the bunch catch their breath. The first 45km run on apparently flat ground, and are followed by three typical pre-Alpine climbs, marked by narrow roadway, high gradients and endless turns, both while climbing and while descending. After a flat drag including a passage over the finish line, the route heads towards the two final climbs in Porzùs and Valle, with a very winding and undulating profile, and high uphill gradients. The road narrows at point while crossing urban areas. The route features some technical descents, especially when climbing down form Passo San Martino at km 67.


Final kms
The last 5km are deceptive: seemingly flat and yet actually running downhill all the way to Cividale del Friuli. The route features a few twists and turns over the last kilometre; the home straight (approx 400m long) is on a 7m wide asphalt road.